:: I Want ::
23:06 | view comments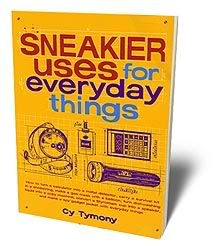 If you know me, you'll know why I want this book. The title says it all.
If you don't get it, maybe
this entry
from
thinkgeek.com
will give you a clue:
MacGuyver Will Envy You

These days, you can never be too prepared. Sneakier Uses for Everyday Things provides loads of practical ideas, science projects, and captivating solutions for dealing with life's unexpected challenges. Great fun for anyone who is curious, inventive, and creative.

Inside, you'll find 40 new educational and unique projects that anybody can successfully complete with simple household items. The book includes a list of necessary materials, detailed sketches, and step-by-step instructions for each gadget and gizmo. You'll learn such things as how to:

* Turn a calculator into a metal detector
* Turn dishwashing liquid into a copy machine
* Create an electroscope out of a glass jar
* Make a gas mask with a balloon
* Carry a survival kit in a shoestring
I seriously want to get this book! Anybody care to grant me this one wish?