:: The Lesson ::
00:14 | view comments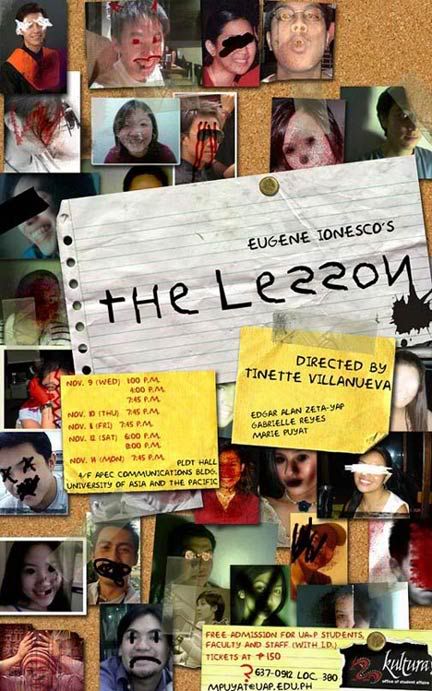 Catch Kultura's next major theatrical production: Eugene Ionesco's "THE LESSON", directed by Tinette Villanueva, which opens on November 9 (Wednesday) for an 8-show run until November 14 (Monday).

A young Pupil (GABRIELLE REYES) arrives, excited for her first lesson with her new tutor - a tightly-wound and timid Professor (EDGAR ALAN ZETA-YAP). At first, the student seems promising and bright. However, as her limitations become evident, the professor's frustration and aggression grow. Though an obsequious Maid (MARIE PUYAT) warns the professor not to get carried away, the professor's exasperation leads to his increasingly ridiculous teachings, and the day's lesson takes a perilous turn.

Ionesco's 1951 classic one-act comedy helped usher in the Theater of the Absurd, a movement in dramatic literature based on existentialist philosophy. The playwrights loosely grouped under the label of the absurd endeavor to convey their sense of anxiety and wonder in the face of a bewildering universe. The surreal situations portrayed in their works aimed to shake viewers out of their conventional lives of everyday concerns. The movement's development was strongly influenced by horrors of World War II, which showed the impermanence of values, shook the validity of conventions and highlighted the precariousness of human life.

"THE LESSON" is the 11th major theatrical production of Kultura, an arts center lodged in UA&P's Office of Student Affairs. In addition to the shows, discussions on the Theater of the Absurd will be conducted on the play's opening date (November 9, Wednesday), for those who are interested in learning more about the movement.

Playdates:
Nov. 9, 2005 (Wed)
1:00 p.m. (Show #1)
2:00 p.m. (Discussion on the Theater of the Absurd)
4:00 p.m. (Show #2)
5:00 p.m. (Discussion on the Theater of the Absurd)
7:45 p.m. (Show #3)

Nov. 10, 2005 (Thu)
7:45 p.m. (Show #4)

Nov. 11, 2005 (Fri)
7:45 p.m. (Show #5)

Nov. 12, 2005 (Sat)
6:00 p.m. (Show #6)
8:00 p.m. (Show #7)

Nov. 14, 2005 (Mon)
7:45 p.m. (Show #8 - last show)


Venue:
PLDT Lecture Hall
4th floor, APEC Communications Bldg.
University of Asia and the Pacific
Pearl Drive, Ortigas Center, Pasig City


Free admission for UA&P students, faculty and staff (please present your valid UA&P I.D. at the entrance).

Tickets at P150.

For inquiries, contact the Kultura Audience Development Officer at 637-0912 loc. 380 or mpuyat@uap.edu.ph.