:: Gold ::
12:27 | view comments

They came. They sang. They conquered.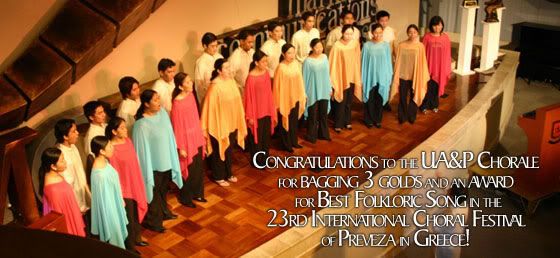 The UA&P Chorale, the first and only Asian entry in the recently concluded 11th International Choral Competition of Sacred Music, claimed the gold medal and the highest marks in all three categories they joined - Mixed Choir, Mixed Youth Choir, and Mixed Ensemble Chamber Choir. They also won a prize for best folklore performance for their rendition of Ruben Federizon's Gabaq-an. Overall, the UA&P Chorale was the most awarded choir in the festival.
The competition, part of the 23rd International Choral Festival of Preveza, was held from July 7 to 10, 2005 in Preveza, Greece and participated in by over a dozen choirs from all over Europe.
The UA&P Chorale will be back in Manila on Friday, July 15, and will be performing again the next week. Their homecoming concert, Amazing Greece, will be held on July 22 at 7:00 p.m. at the Li Seng Giap Auditorium.
for ticket inquiries, please contact Ms. Marie Puyat at +63.2.63710912 local 380... but do so after the 15th.