:: Better Than Eye Candy ::
16:52 | view comments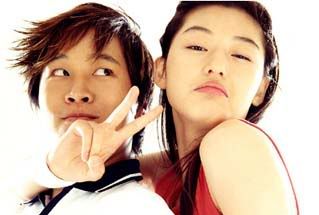 My Sassy Girl
now tops my list of favorite movies. I'm still trying to think of other films that might knock it off its pedestal now, but I haven't found one so far.
Thanks to this movie, I also have a new crush,
Jun Ji-hyun
. She is just too cute. Part of the reason her character gets away with all her obnoxiousness is that she looks so adorable. On the other hand, it could be that she is adorable because there's so much personality behind that simple face. But anyway, I'm rambling...
Jun Ji-hyun is definitely eye candy... and near the end of the movie, she looked a bit like
Shu Qi
(
So Close
,
The Transporter
), another utterly adorable face.
Hmm... connect this with a
recent entry
and you might see a trend. Jun Ji-Hyun, Shu Qi, and
Zhang Ziyi
... yum!
Anyway, a line from a song just came to mind, but I'm wondering if anybody can identify the song just based on this line: "I feel like a kid with a teenage crush on a school day." What does this have to do with the rest of the things I've written here? Well, I'm beginning to think this entry makes me seem like such a sap. For now, though, I don't think I'd argue. I'm still hung over from watching My Sassy Girl.