:: Helping Out ::
11:53 | view comments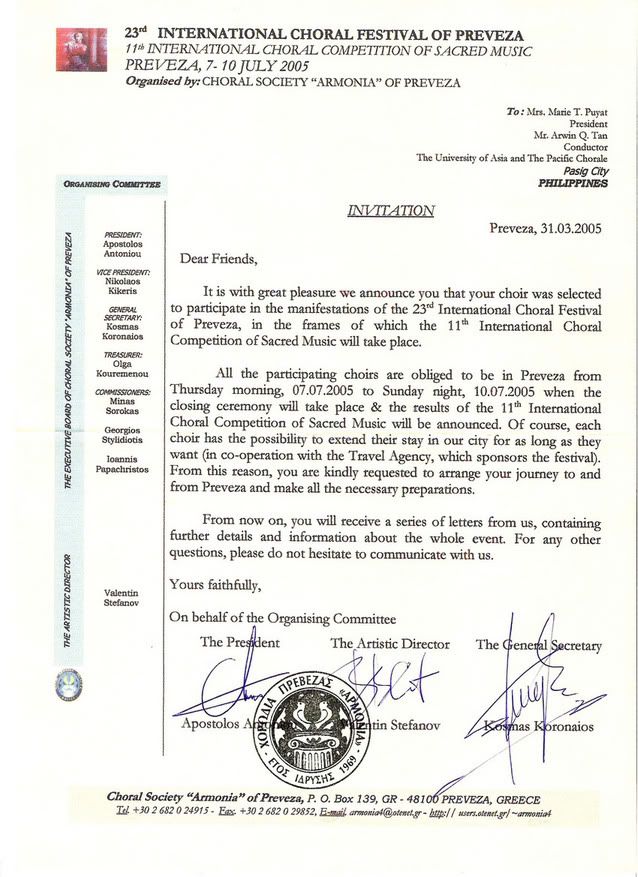 The UA&P CHORALE needs your help!

The UA&P Chorale, the resident choral ensemble of the University of Asia and the Pacific and the Grand Prize winner of the Paskong Himig sa Lungsod ng Pasig 2004 (Choir Category), besting 53 other choirs in Pasig City, will be representing Asia and the Philippines in the 23rd International Choral Festival of Preveza in Preveza, Greece (July 7-10, 2005).

The UA&P Chorale is the only Filpino and Asian choir in this established and prestigious international choral competition, which will be participated in by 19 other choirs from European and North American countries.

In the next two months, we need to raise enough money to send 30 singers and volunteers to Greece. With your support, we can achieve this dream.

There are several ways you can help us:

1) Please contribute to our 500-PESO FUND DRIVE!
UA&P Chorale members may approach you to ask for a donation. You can also text your pledges to +63(917)833.4564 / +63(922)495.9340, or e-mail them to mpuyat@uap.edu.ph.
Of course, donations of any amount are also welcome. We also accept donations in weekly/bi-weekly/monthly installments.

2) Please watch our SEND-OFF CONCERT!
Amazing Greece: Our Send-off Concert / CD Launch
June 18, 2005 (SAT), 5:00 p.m., Philamlife Auditorium, U.N. Avenue, Manila
Ticket prices to be announced. Ticket buyers get a discount on our CD, which will be released the same night.
Serenata ticket buyers, get your stubs ready so you can avail of your 50-peso discount as well.

For tickets or inquiries, text +63(917)833.4564 / +63(922)495.9340 or e-mail mpuyat@uap.edu.ph.

3) Volunteer your time or your corporate/donor contacts

We need all the help we can get for fundraising, so if you have personal contacts in corporations, please send them to us so we can send them our very worthwhile partnership packages.


If you know of anyone who may be able to give a personal donation, please let us know as well.


If all you can afford to give is your TIME, we'd be very glad to have you as a volunteer for our marketing/fundraising efforts this summer.

Please drop by the OSA Office at ACB 3rd Floor Landing (3.5) and ask to speak to anyone from Kultura. If we are not there, please leave your name and number, and we'll contact you. You may also text us at +63(917)833.4564 or +63(922)495.9340, or e-mail mpuyat@uap.edu.ph.