:: Art ::
23:57 | post a comment | view 0 so far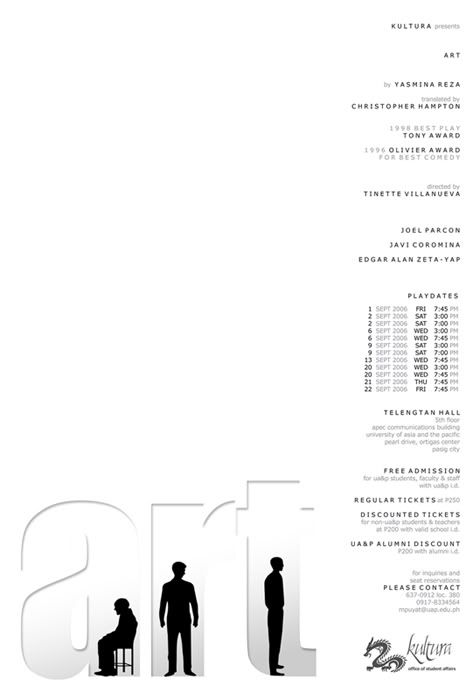 Art
by Yasmina Reza
translated by
Christopher Hampton
9.01.2006 (Fri) 7:45 p.m.
9.02.2006 (Sat) 3:00 p.m. & 7:00 p.m.
9.06.2006 (Wed) 3:00 p.m. & 7:45 p.m.
9.09.2006 (Sat) 3:00 p.m. & 7:00 p.m.
9.13.2006 (Wed) 7:45 p.m.
9.20.2006 (Wed) 3:00 p.m. & 7:45 p.m.
9.21.2006 (Thu) 7:45 p.m.
9.22.2006 (Fri) 7:45 p.m.
Telengtan Hall
5/F APEC Communications Building
University of Asia and the Pacific
Pearl Drive, Ortigas Center
Pasig City
FREE ADMISSION for UA&P students, faculty & staff with UA&P ID
REGULAR TICKETS at P250
DISCOUNTED TICKETS for non-UA&P students & teachers at P200 (with valid school ID)
UA&P ALUMNI DISCOUNT P200 with alumni ID
(please contact uapalumni@gmail.com for information on how to apply for your UA&P Alumni ID)
for inquiries and seat reservations, please contact
637-0912 loc. 380
(917) 833-4564
mpuyat@uap.edu.ph
The play has been produced in more than 30 countries and has won its writer almost every major theater award in Europe and the United States, such as the 1996 Olivier Award for Best Comedy and the 1998 Tony Award for Best Play.

ART, described by its playwright as a funny tragedy, tells the story of three men who are forced to re-evaluate their friendship after one of them buys a five-foot-by-four painting of fine white diagonal lines against a white background for the exorbitant price of 200,000 francs. It is a humorous yet heartbreaking story that examines the meaning of art and friendship.

ART is the thirteenth major theatrical production of Kultura, an arts center based in the University of Asia and the Pacific (UA&P) Office of Student Affairs. Tinette Villanueva, whose varied directorial credits include Moliere's Tartuffe, Ang Inspektor ni Nikolai Gogol, Agatha Christie's Ten Little Indians, Clytemnestra ni Juan Ekis, Eugene Ionesco's How to Get Rid of It and The Lesson, and William Shakespeare's The Comedy of Errors, directs the three-man cast (Joel Parcon, Javi Coromina and Edgar Alan Zeta-Yap).